Next >> Viewing 1 - 20 of 94 stories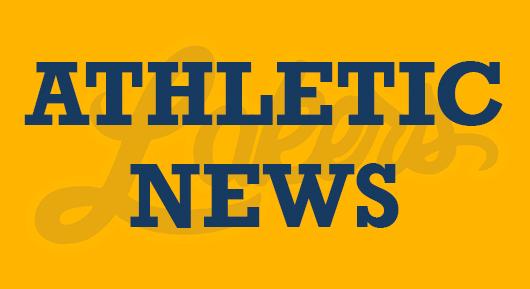 Fall Scholar Athletes and Scholar Athlete Teams Announced:

The Cazenovia CSD High School and Athletic Department are pleased to recognize the following student-athletes from the Fall 2023 varsity seasons for their academic success while participating on a varsity level team during the first marking period. The following 7 CCSD teams are recognized by the NYSPHSAA as reaching Scholar-Athlete Team status (for having the top .750 of the roster average at least a 90.0 gpa or higher): Boys Golf Boys Soccer Boys XC Girls Tennis Girls XC Field Hockey Girls' Volleyball The following students listed below are recognized for having at least a 90.0 grade average during the 1st marking period, while being on a Fall 2023 varsity team: Boys Golf Jacob Hyatt, Eli Revelle, Ethan Burry, Ben Bianco, Miles Synborski, Nico Segall, ...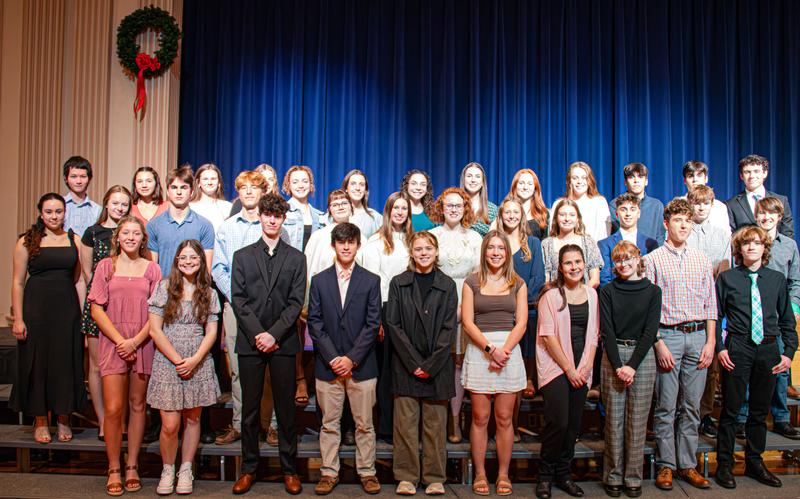 Caz Inducts 35 New Students Into National Honor Society:

Congratulations to the 35 awesome students who were recently inducted into the Owahgena Chapter of the National Honor Society! These students are being recognized because they've excelled academically while being leaders, helping others, and having good character. Getting into the National Honor Society is no small feat. Please join all of us in congratulating these well-deserved students and acknowledging their hard work.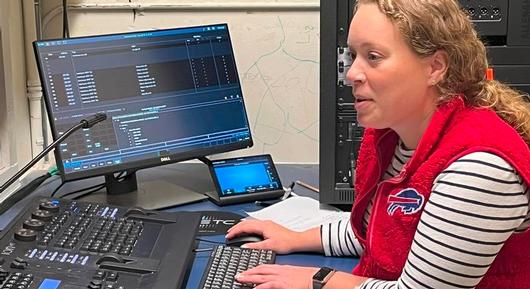 Cazenovia Alum Katie Gilliland Makes Special Visit To Maximize Potential of New Lighting System:

Cazenovia graduate Katie Gilliland visited the HS auditorium to give technical assistance with the new lighting system. Katie is a 2006 graduate of Caz and a former technical director of the spring musical. She received her degree in theater lighting and sound from the University of Buffalo and is currently the Vice President of Audio Video Technology at M&T Bank in Amherst, NY. Katie was tremendously helpful in helping us realize the full potential of the new lighting system recently installed in the High School Auditorium and for providing training for the members of the Junior High and High School musical staff. Many thanks to Katie for the generous donation of her time and talents!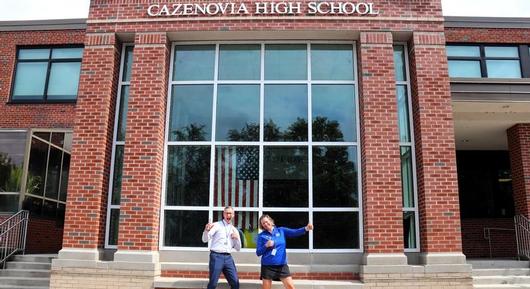 U.S. News & World Report Ranks Cazenovia High School Among Best High Schools:

The school attained a score of 94.92, which placed them 3rd within Syracuse, NY metro area high schools and 98 th in of all schools in New York. In addition, CHS ranked 899th in the nation, out of more than 17,600 schools that were evaluated at the national, state and local level. The overall success that earned Cazenovia this distinction can be found at www.usnews.com/education/best-high-schools/new-york/districts/cazenovia-central-school-district/cazenovia-high-school-13583 . While acknowledging the award, District Superintendent Chris DiFulvio expressed appreciation to the staff that work hard every day to make Cazenovia High School a great school, adding, "Thank you to our staff for leading our district to success, and thank you to Molly Hagan and Chris Bubble for their ...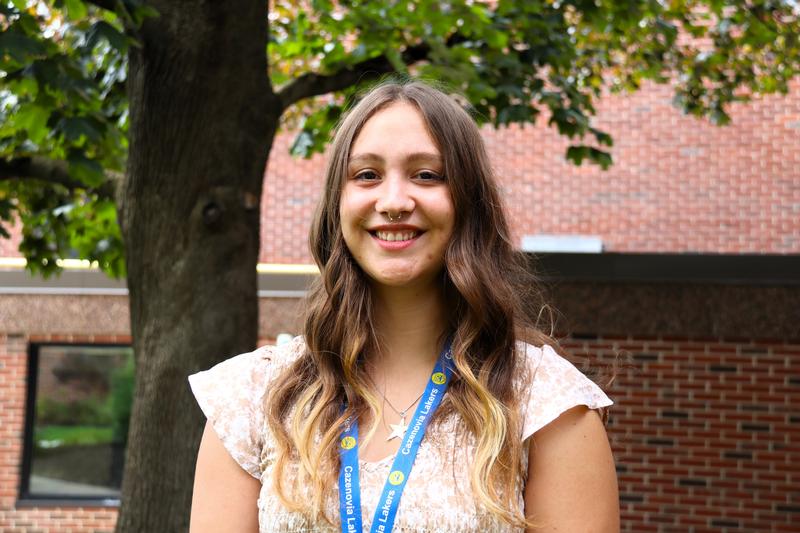 Cazenovia Welcomes New Educator Grace Lohret to CCSD:

Please join us in welcoming Grace Lohret to Cazenovia CSD as a School Psychology Intern. Before joining CCSD, Lohret attended high school at Argyle Central School District and received her undergraduate degree at SUNY Plattsburgh. She is currently in her 3rd year of graduate school and has shadowed two other school psychologists prior to coming to Cazenovia CSD. When Grace isn't working, she enjoys spending time with her cat, watching television, and hanging out with friends. She is greatly looking forward to the next year and being a part of the Cazenovia team, and we are glad to have her aboard!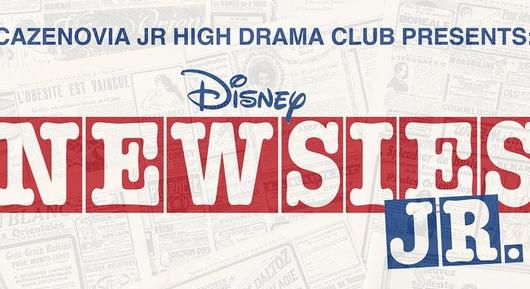 Cazenovia CSD Jr. High Drama Club Presents Disney's Frozen Jr. November 2-4: The Cazenovia Central School District Jr. High Drama Club invites you to embark on a magical journey into the enchanting world of Disney's Frozen Jr. This heartwarming production promises to captivate audiences of all ages with its beloved characters, enchanting story, and unforgettable music. Performance Dates and Times:
Thursday, November 2nd at 4:00 pm
Friday, November 3rd at 7:00 pm
Saturday, November 4th at 3:00 pm Location: Cazenovia High School Auditorium 31 Emory Avenue, Cazenovia, NY Ticket Information:
Tickets are priced at $8 per person. ...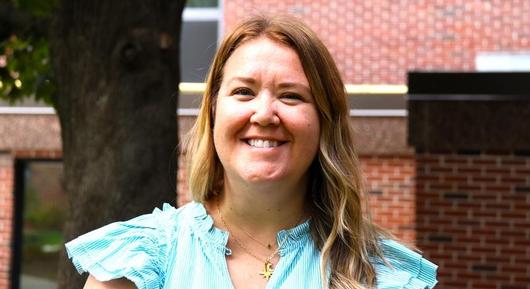 Cazenovia Welcomes New Educator Nicole Mullen to CCSD:

Please join us in welcoming Nicole Mullen to Cazenovia Central School District as a 6th grade teacher. She graduated from Corcoran High School, where she played soccer and lacrosse. After high school, she went to Lemoyne College for her undergraduate degree and then earned her graduate degree in Education at Nazareth College, where she became certified in both childhood and special education. Before joining CCSD, she taught in public schools in New Jersey and New York City. After moving back to Syracuse, she also taught at West Genesee and (most recently) in Canastota, as a 6th grade ELA teacher. When Mullen isn't teaching, she enjoys spending time with my family, traveling, and reading. She is very excited to be a part of the Cazenovia community and is looking forward ...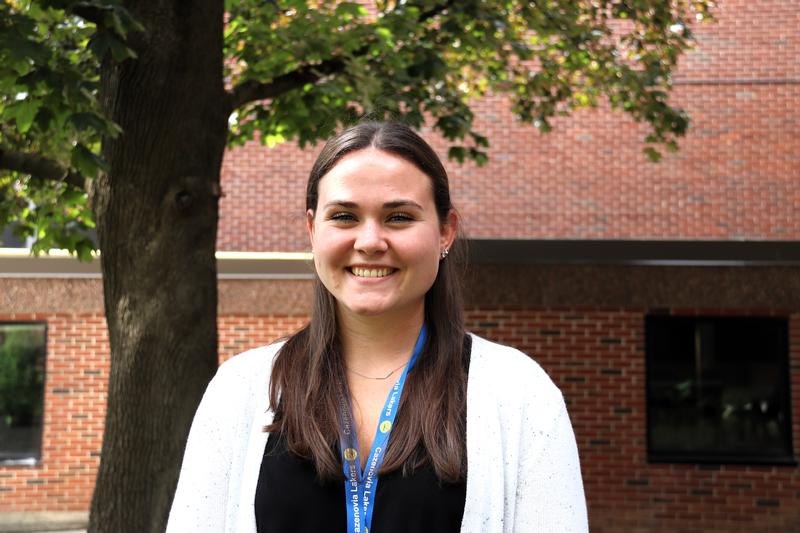 Cazenovia Welcomes New Educator Kaleigh Ristau to Burton Street Elementary:

Please join us in welcoming Kaleigh Ristau to Burton Street Elementary as a new 1st grade teacher. Ristau graduated from Jamesville-Dewitt High School in 2019 and earned a bachelor's degree at SUNY Geneseo in Childhood and Special Education with a math concentration. Although she has worked in Rochester City School District, Victor Central School District and has also been a substitute in the Jamesville-Dewitt Central School District, this is her first full-time teaching position. When Kaleigh isn't teaching, she loves to cook, go hiking, read a good book and spend time with her family and friends. In addition, she is also a huge Buffalo Bills fan, so every Sunday you can find her cheering them on. She is very excited to be a part of the Cazenovia community ...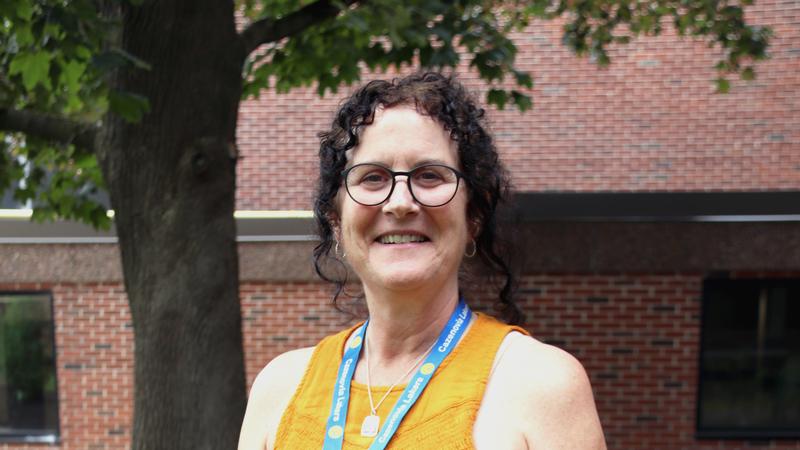 Cazenovia Welcomes New Educator Donna Stanistreet to CCSD:

Please join us in welcoming Donna Stanistreet to the Cazenovia Middle/High School as School Psychologist. Stanistreet grew up in Syracuse and received her B.S. in Elementary Education and CAS in Piano from SUNY Oswego. In addition, she went to RIT for her MS/CAS in School Psychology and then obtained her CAS in Administration from Niagara University. Before joining the Middle/High School, she worked as an elementary teacher, school psychologist and administrator in various cities in New Jersey, Georgia and New York. In her free time, Donna enjoys an array of hobbies that include tending to her tiny farmlet which includes veggies, an orchard, chickens and bees. Although taking care of her farmlet takes a lot of her time, she also enjoys cycling, kayaking, camping, hiking ...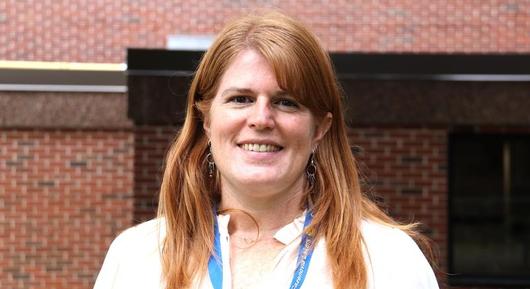 Cazenovia Welcomes New Educator Erin Sunderman to CHS:

Please join us in welcoming Erin Sunderman to Cazenovia High School as a Special Education Teacher. Sunderman is a Laker alum and grew up in Cazenovia, where she attended school in CCSD from Kindergarten until 10th grade. Her family moved in the middle of 11th grade and so she graduated from Long Lake Central School. Throughout her school years, she played field hockey, basketball, and soccer. After high school, she attended Nazareth College, where she earned a BS in psychology and teaching certifications in elementary and special education. Then, she earned her master's degree at the University of Pittsburgh in literacy. Before joining Cazenovia High School, she worked for the Allegheny Intermediate Unit in Pittsburgh, PA ...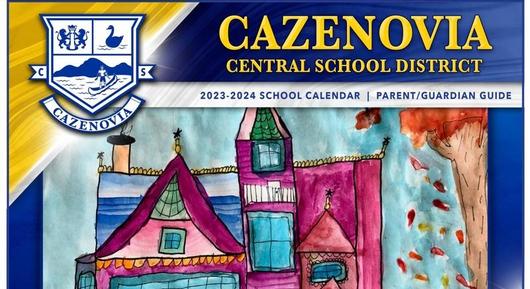 CCSD 2023-2024 Calendar/Parent Guide Available Online:

As the start of school quickly approaches, we wanted to send you all an electronic copy of our CCSD 2023-2024 Calendar/Parent Guide. The paper copies of this annual publication are expected to be mailed to households next week, but in the meantime, you can check it out by clicking this link. While many of our events throughout the year are subject to change, we populated this year's wall calendar with items that are least likely to change and provided a QR code to our web calendar page. This webpage will have the full schedule of CCSD events. We have also included this QR code below, for your convenience. We cannot wait to welcome you back for another fantastic school year! Please note - There are two revisions to the academic calendar that are not reflected in the mailed wall ...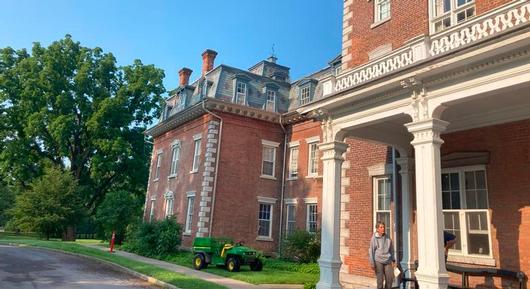 CHS Staff Receive EAC Grant to Enhance Summer Professional Development and Collaboration:

High school librarian Ben Wightman and English Teacher Wendy Everard attended a professional development opportunity recently at the Oneida Community Mansion House where they learned about how to incorporate the study of primary sources into our curricula, lessons, and library instruction. Both are collaborating on the Cazenovia Abolition unit that Everard explores with the AP Language class, and they received an EAC grant to work on the unit . The visit to the Mansion House was part of this summer grant project. "It was very informative and included a tour of the mansion with an accompanying lecture on its history, talks by Madison County historian Matt Urtz, Camden teacher Jessica Harney, and Ryan Perry, manager of the New York Heritage ...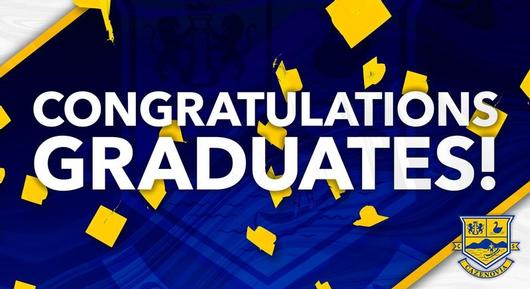 Congratulations to our Class of 2023!:

Congratulations to our Class of 2023! Check out our commencement album here: https://drive.google.com/drive/folders/1tsTTQR-Cbm44gph4BtX8UVFrHx295bCf?usp=sharing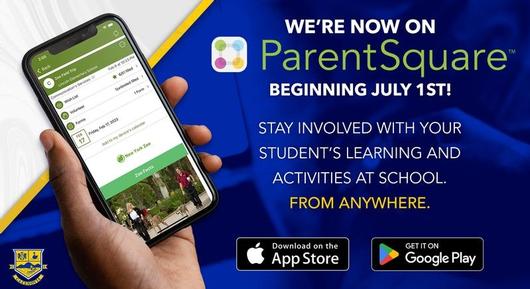 ParentSquare Going Live for CCSD Communications on July 1, 2023:

Starting July 1st, CCSD will be using ParentSquare to communicate with you! ParentSquare provides a simple and secure way for everyone associated with school to connect. When fully implemented, with ParentSquare you'll be able to: • Receive all school and classroom communication via email, text or app • See calendar items • Sign up to volunteer • Schedule parent-teacher conferences • View the school and classroom calendar and RSVP for events • Easily sign up to volunteer and/or bring items Invitation emails or texts to join Parent Square were sent out on June 8th. Please click the link to activate your account. It takes less than a minute. If you did not receive an invitation, create an account at www.parentsquare.com with the e-mail ...
Next >> Viewing 1 - 20 of 94 stories