Next >> Viewing 1 - 20 of 68 stories
Vote Results Are In!:

Results are in! All three budget vote propositions have passed. In addition, Meghan Kelly (546 votes) and Jan Woodworth (521 votes) have been elected to the Board of Education.

Proposition #1
Proposition #2
Proposition #3
School Budget Information:

2023-24 Budget Vote Information The 2023-24 School Budget will be put before the voters on Tuesday, May 16, 2023 . Voting will be held in the Middle School Auxiliary Gymnasium from 12pm to 8pm . The annual budget hearing will be held one week prior, on May 9, 2023 at 6:30pm in the High School Auditorium. Absentee Ballots Click here to view the 2023 Absentee Ballot Application 2023-24 Budget Calendar The 2023-24 School Budget calendar was approved by the Board of Education on Monday, November 14, 2022. This lays out our timeline for developing the 2023-24 district operating budget. The dates align with Board meeting dates and/or dates set forth by New York State law. Click here ...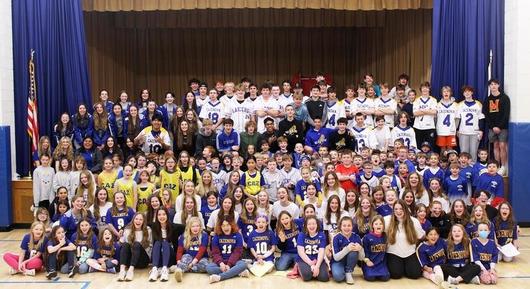 Varsity Athletes Mentor Elementary Students via Cazenovia Jersey Day:

Cazenovia Central School District's "Jersey Day" is a special event held each year, where varsity athletes volunteer their jersey to a fourth-grade student to wear for the day. Varsity students are paired with a fourth-grader, and the pairs get to know each other as well as spend time with the team as a whole during the assembly. "The fourth-graders love getting to know a high school athlete," said Burton Street Elementary Physical Education Teacher Sean Condon, who assisted in coordinating the event. "They wear their jerseys with pride and enthusiasm throughout the school day." Members of the Cazenovia lacrosse, baseball, softball, track and field, golf, tennis and unified basketball teams participated in the event, ...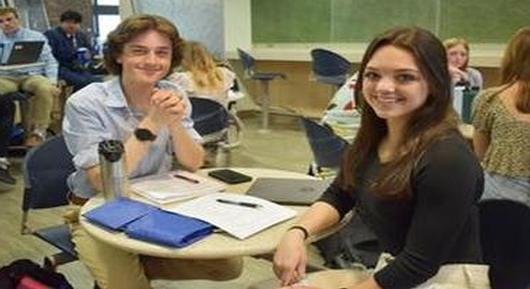 Caz Students Recognized for Seal of Biliteracy:

Cazenovia seniors Elijah Gebers and Corinne Albicker prepare for their Seal of Biliteracy presentations on April 21 at Onondaga Community College. The Cazenovia district brought 17 participants in all. Gebers will be studying opera in the fall at the Eastman School of Music; Albicker plans to attend SUNY Geneseo to major in math education. Read the full story here.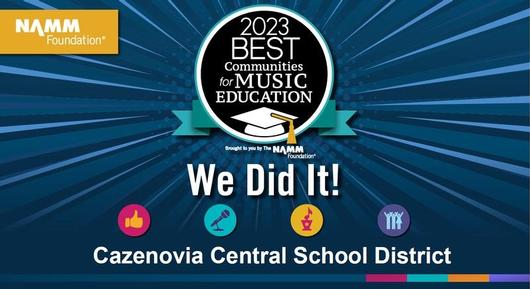 CCSD Receives NAMM Best Communities for Music Education Award!:

Cazenovia CSD for has been named as one of the BEST COMMUNITIES for Music Education 2023, a designation from The NAMM Foundation for its outstanding commitment to music education. Now in its 24th year, the Best Communities for Music Education designation is awarded to districts that demonstrate outstanding achievement in efforts to provide music access and education to all students. To qualify for the Best Communities designation, Cazenovia, answered detailed questions about funding, graduation requirements, music class participation, instruction time, facilities, support for the music program and community music-making programs. Responses were verified by school officials and reviewed by The Music Research Institute at the University of Kansas. Research into music education continues ...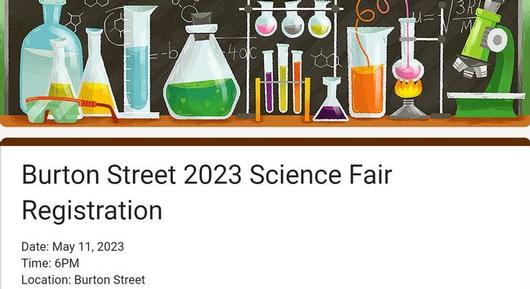 Burton Street 2023 Science Fair Registration Now Open:

Burton Street 2023 Science Fair Registration Date: May 11, 2023 Time: 6PM Location: Burton Street If your child is planning to participate, please fill out the online registration form. The form is duplicated if you have more than one child participating. Note: If multiple students are participating in one project only one registration needs to be completed.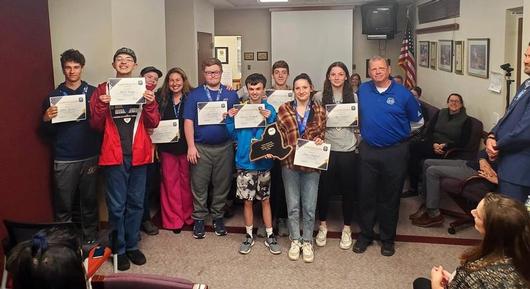 Branden McColm & CCSD Unified Bowling Team Recognized by BOE:

Branden McColm, Boys Varsity Indoor Track, and the members of the 2023 Championship Unified Bowling team were recognized for their excellence by the Board of Education and District Administration at their April meeting. Branden McColm was celebrated for being a NYSPHSAA State Championship participant for Indoor Track this past winter season. Coach Mark Tugaw presented Branden with a District Certificate of Excellence and discussed Branden's success on the track and as a leader of the team. The Cazenovia Unified Bowling team was introduced by Coach Brian Ellithorpe. This year's team finished #1 in the season-end tournament. Mr. Ellithorpe celebrated the team's successful bowling skills, but also highlighted the team building and friendships that have formed ...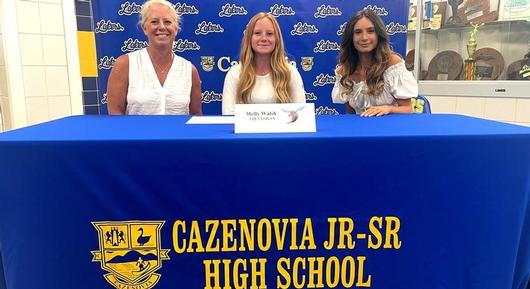 CHS Student Molly Walsh Signs NLI for Division I Equestrian Team:

Molly Walsh, Class of 2023, signed her National Letter of Intent to participate at the collegiate level in the sport of Equestrian on Friday, April 14th. Molly declared her intentions to attend Delaware State and be a member of the Division I Equestrian Team. Congratulations to Molly Walsh on her accomplishments and her college decision! Pictured with Molly are her mother, Julie Walsh and sister, Grace Walsh.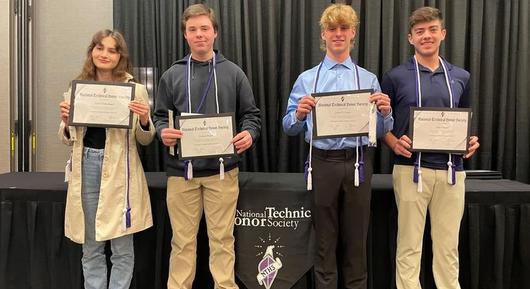 CCSD Students Inducted Into National Technical Honor Society:

Tuesday, April 11th, four Cazenovia High School seniors were inducted into the OCM BOCES Thompson Road Campus National Technical Honor Society. Avery Dauenhauer, Early Childhood Education John Fowler, Automotive Technology Nathan Porter, New Vision Criminal Justice Jaden Sevier, Welding Technology The goal of the National Technical Honor Society is to recognize deserving students who have chosen technical education pathways to a successful future. These four members of the class of 2023 exemplify the eight key attributes of knowledge, skill, honesty, service, responsibility, scholarship, citizenship and leadership. Congratulations to all of our new and past inductees! Pictured left to right: Avery, Nathan, Jaden and ...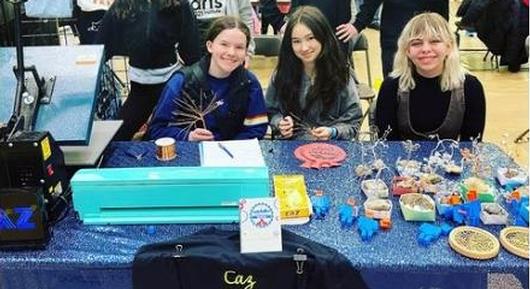 Caz Creates Club Takes Entrepreneurship to the Next Level:

The High School/Middle School Caz Creates Club attended the Syracuse Maker Faire last week to display and sell some of the creative things they have made in the STEM lab this year! They made custom t-shirts, 3D robots, wooden toys, signs, jewelry, unique bonsai trees and more! This Club merges business, technology and entrepreneurship and applies it to the real world! See Mrs. New to join! the group meets every Tuesday in the HS STEM lab.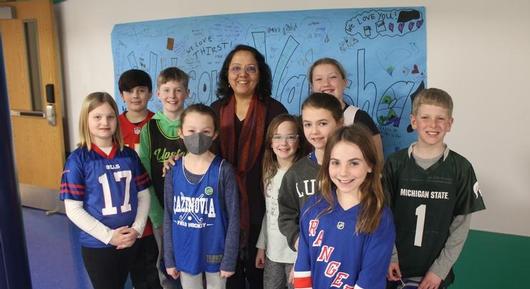 Best Selling Author, Varsha Bajaj visits Burton Street Elementary:

Author Varsha Bajaj made a very special visit recently to Burton Street Elementary. She spent the entire day with students, sharing her journey in becoming an acclaimed storyteller, what characteristics make a good story and to spread her love for reading. Each grade level was able to visit with Bajaj, with discussions catered to age groups, including items such as rhymes, counting and the power of a story. Varsha Bajaj is the New York Times bestselling author of the Upper Elementary/ Middle Grade novel, Thirst . She is also author of Count Me In and Abby Spencer goes to Bollywood , which was shortlisted for the Cybils Award and included in the Spirit of Texas Reading program. She also wrote the picture books; The Home Builders (a Dolly Parton Imagination library selection), ...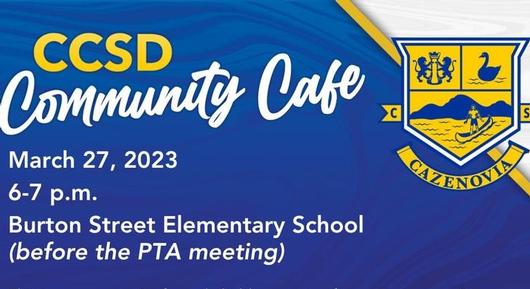 Another CCSD Community Cafe Coming Up On March 27:

Another exciting Community Cafe is coming up next week! This is an opportunity for stakeholders from our community, faculty/staff, and students to come together to share ideas on improving our district. We value your feedback and hope to see you there!
2-Hour Delay on March 15, 2023: Dear Laker Families,
Our district team is having trouble keeping up with clearing the snow at our campuses and transportation center for tomorrow. We are experiencing some equipment failures, which have compounded this situation. We continue to be in close communication with our highway departments. To help families prepare, tonight we are announcing a two-hour delay for tomorrow, March 15.
It is unclear as to whether or not we will be able to open tomorrow. We understand that waiting can be frustrating, so we apologize.
Please know that nothing is more important than our students' safety. If school is closed tomorrow, we will make that announcement as early as possible. Thank you for your patience and understanding.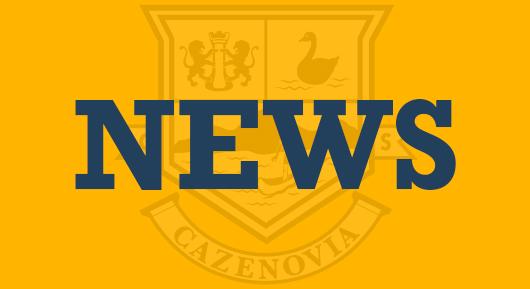 Board of Education Elections and Military Ballots:

BOARD OF EDUCATION If you are interested in running for a seat on the Board of Education, contact the district clerk by email eayres@caz.cnyric.org or call (315) 655-1317. There are two (2) at-large vacancies to be filled on the Board of Education, each for a three-year term commencing July 1, 2023 and expiring June 30, 2026. The vacancies arise from the expiration of the terms of Dr. Jan Woodworth and Mrs. Meghan Kelly. Each candidate petition must be filed in the office of the district clerk of Cazenovia Central School District, 31 Emory Ave, Cazenovia NY 13035, no later than 3:30 p.m. on the seventeenth day of April, 2023. MILITARY BALLOTS Military voters who are qualified voters of the Cazenovia Central School ...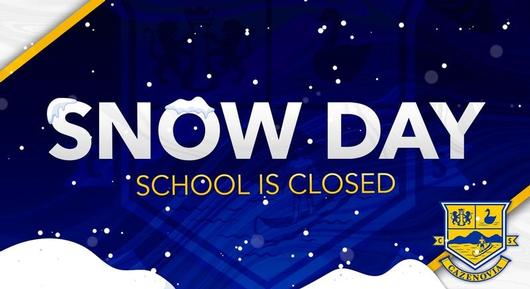 School will be closed tomorrow, March 14, 2023:

Dear Laker Families, Governor Hochul has declared a State of Emergency beginning at 8 pm tonight. As a result, we will be closed tomorrow, 3/14/23. Please stay safe. -Christopher DiFulvio, Superintendent of Schools
Next >> Viewing 1 - 20 of 68 stories